Technology at your service


The Center's structure is modern and offers highly specialized health care services. It is our goal to continually improve our organization using the highest quality standards..

Our staff is dedicated to treating patients with dignity and compassion and understanding their needs in order to constantly improve its services.

The Colombo facilities are in accordance with all European standards, its staff is highly qualified and its medical treatment follows the latest scientific research in the medical field.


Humanize with colours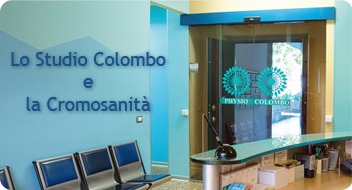 This in a nutshell, the effect virtuous achievable thanks to the power of color therapy itself and its now widely recognized influence on human psychology For this reason the Study Colombo has decided to adopt the Cromosanità for most of its areas.
Patrizia Palmieri
Responsabile Marketing